Genshin Impact 4.0 update: new weapons, Banner order, 4-stars, and Fontaine leaks
So many Genshin Impact 4.0 leaks have occurred in the past few days. Everything from banner orders to new weapons and characters has been leaked thus far. This article will summarize the various Fontaine content expected to launch once the new Version Update goes live. Note that everything posted below is subject to change.
Genshin Impact 4.0 is expected to launch around August 16, 2023. Most of the content discussed here will likely be confirmed in the following Special Program once it's viewable. Let's start with the banner order rumors before diving into the other leaks.
Genshin Impact 4.0 leaks: New content in Fontaine, ranging from banners to weapons and characters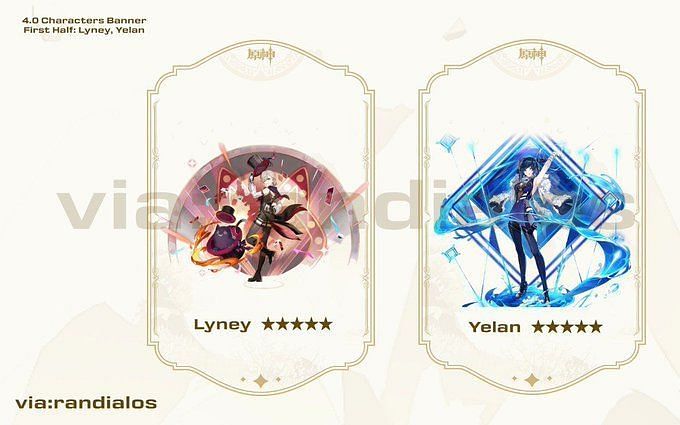 Randialos has leaked that the Genshin Impact 4.0 banner order is as follows:
1st Phase: Lyney + Yelan
2nd Phase: Zhongli + Tartaglia
That means the featured 5-star weapons on Epitome Invocation would be:
1st Phase: The First Great Magic + Aqua Simulacra
2nd Phase: Vortex Vanquisher + Polar Star
The First Great Magic is a brand-new 5-star Bow, so it's worth covering the new weapons up next.
New Leaked weapons in Genshin Impact 4.0
At level 90, the First Great Magic is a five-star bow that deals 608 ATK and 66.15% CRIT DMG. The results at the initial tier of refinement are:
"There was a 12% boost in ATK. Gain an additional stack of the Gimmick for each member of the party who shares the same Elemental Type as the wielder. Get an extra Theatrics stack for every party member who has a different Elemental Type than the wielder. Having one, two, or three stacks of Gimmick raises attack power by 8%, 16%, or 40%, respectively. The user's Movement SPD increases by 4%/7%/10% when they have one, two, or three stacks of Theatrics.
All the rumored 4-star weapons in the upcoming Fontaine update are listed below.
Ballad of the Fjords (Polearm)
Crossing of Fleuve Cendre (Sword)
Finale of the Deep (Sword)
Flowing Purity (Catalyst)
Rightful Reward (Polearm)
Sacrificial Jade (Catalyst)
Scion of the Blazing Sun (Bow)
Song of Stillness (Bow)
Talking Stick (Claymore)
Tidal Shadow (Claymore)
Wolf-Fang (Sword)
From left to right, these are the new Battlepass weapons shown on Instagram:
Scion of the Blazing Sun
Wolf-Fang
Talking Stick
Battle of the Fjords
Sacrificial Jade
It's very rare to see an update introduce this many new weapons.
New characters in Genshin Impact 4.0