How to Get Verified on Threads
Threads, Instagram's new Twitter alternative, is exploding in popularity, with millions of users already signed up. The app, which requires an Instagram login, is gaining popularity, and it's likely that you're already logged in. Here's how to become verified on Threads if you're wondering how to distinguish yourself from the millions of other users.
Get Verified on Threads using Instagram's Legacy Verification
Note: If you have a verified Instagram account, you are automatically verified on Threads.
There are a variety of reasons why you may wish to be verified. If you are a public figure and want to prevent people from creating fake accounts impersonating you, you can use Instagram's legacy verification process to request verification. Here is how it operates:
Tap the profile icon in the Instagram app, and then tap the hamburger menu in the upper-right corner.
Tap on 'Settings and privacy and then search for 'Request verification' in the search bar.
Tap on the 'Request verification' result and fill out the form that comes up. Once done, tap on 'Submit'
Nota bene: Instagram verifies accounts it deems noteworthy and in the public interest. Therefore, verification is not guaranteed using this method. Instagram will notify you once they have reviewed your application and determined whether or not to verify your account.
Get Verified on Threads using Meta Verified
Alternatively, you can use Meta Verified to become thread-verified. Meta Verified is a paid service that allows you to have your account verified. Similar to Twitter Blue, the service is exclusive to certain regions. Here's how to use Meta Verified to get your Threads account verified.
In the Instagram app, tap your profile icon and then tap the hamburger menu.
You will see a 'Meta Verified' option in the pop-up, tap on it. Tap on 'Subscribe'
Choose your Instagram account that's associated with Threads and tap on 'Sign up'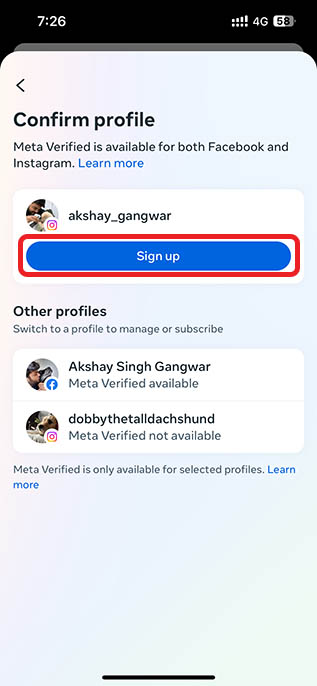 Instagram will inform you about the price of the subscription (it's Rs. 699 per month in India). Tap on 'Pay now' to make the payment.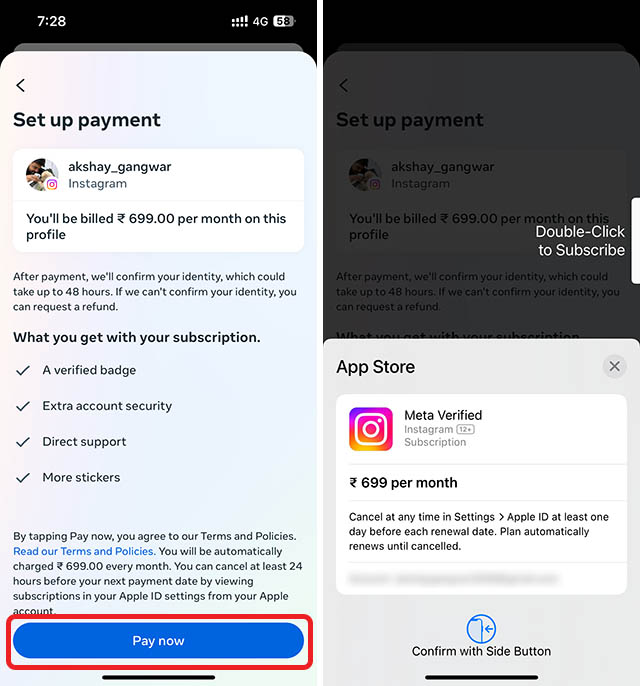 Within 48 hours of receiving payment, Meta will contact you to confirm your identity. Meta will accept a government-issued ID as proof of identity. Once your identity has been confirmed, a blue checkmark will appear on your Instagram profile, and you will also be verified on Threads.
FAQ
Do you need 1000 followers to get verified?
Instagram has no minimum requirement for the number of followers you must have in order to apply for verification.
Is there a trick to get verified on Threads?
There is no method that can be utilized to become verified on Threads. Either you must demonstrate to Meta that you are a person (or brand) of public interest, or you can subscribe to Meta Verified to receive a blue checkmark on Threads.